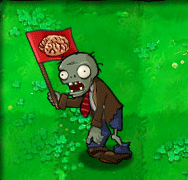 Flag Zombie marks the arrival of a huge pile or 'wave' of zombies. It is very similar to the Basic Zombies, but it is much faster. You will only see two or three of them in a level, but the attacks that follow can be very dangerous, so look out!
Health: Low
Strengths: Huge wave of zombies following him, high speed
Weaknesses: Multiple shooters, explosive plants (to take out the huge wave)
Ad blocker interference detected!
Wikia is a free-to-use site that makes money from advertising. We have a modified experience for viewers using ad blockers

Wikia is not accessible if you've made further modifications. Remove the custom ad blocker rule(s) and the page will load as expected.