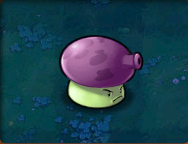 Fume-shrooms are a nocturnal plant with a relatively short range, but the ability to shoot through multiple zombies at a time. Rumour has it he and Puff-shroom are good friends, in fact, he was the one who introduced Fume-shroom to zombie killing business.
Cost: 75
Recharge: Fast
Damage: Heavy
Ad blocker interference detected!
Wikia is a free-to-use site that makes money from advertising. We have a modified experience for viewers using ad blockers

Wikia is not accessible if you've made further modifications. Remove the custom ad blocker rule(s) and the page will load as expected.